Without doubt, chiffon is one of the most common elements has been used in spring and summer women clothing collections.
They are:
Its texture brings a breeze feeling in hot days. They are great option for making tops and dresses.
The material is so soft and smooth to wear; it is also very easy to match with other items. You can wear a chiffon dress alone with a pair of flats or high heels, or wear it inside with jackets or cardigans. Mini chiffon dress or chiffon top also look great with slim pants or jeans.
Because of it is normally thin and bit see through, designers sometime use layers and mix n match style to create more combinations and looks.
A chiffon cloth can be casual as well as formal, can be cute as well as sexy, can be sweet as well as punk.
Now we will introduce three common but classic chiffon clothing and matchings:
Style 1: Casual Style Chiffon Top or Dress
To dress: with jeans, leggings and slim pants, or wear it alone.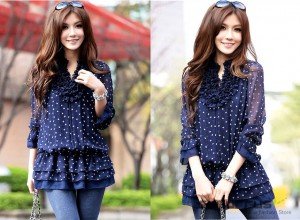 This frill chiffon top is from Susurrus women clothing collection. Frill neck and hem create a layer look, casual but not simple, looks delicate and feminine.
You can wear it with different kinds of fashion women shoes, such as a mini base safe pants and high heels to create a sexy look or with jeans and flats, will be a great outfit for daily wearing.
Style 2: Office Lady Look Chiffon Shirts or Jumpsuits
To dress with: formal jackets, fashion women bags, designer glasses or slim pants.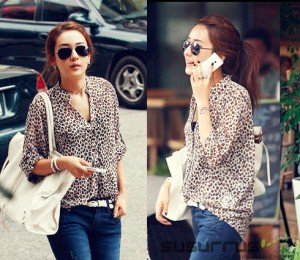 This is another amazing look piece from Susurrus women clothing collection. This shirt combines two hottest elements: leopard prints and chiffon material. The combination creates a sexy and sophisticated look. It will be definitely a popular piece in wardrobe.
Style 3: Elegant cocktail chiffon dresses or wedding dresses
To dress: with high heels and jewelleries.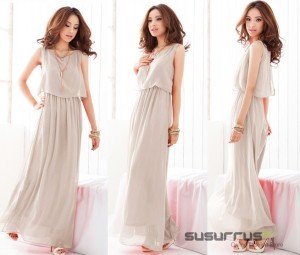 Chiffon is a great option for making summer maxi dresses, it doesn't have to be in complex design, simple long dress will reflect the charms of chiffon material.
Just like this maxi summer tank dress from Susurrus women clothing collection. Light, elegant and romantic. It is suitable for both daily wearing and high class parties.
There are more chiffon pieces waiting your to discover, no matter what age are you, it will be never too late to start your chiffon journey.